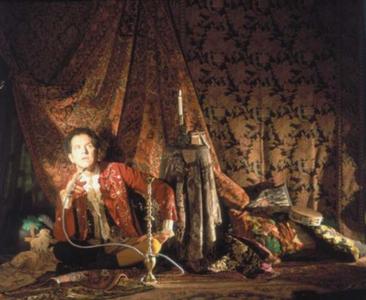 It was a night when Nazis ruled the national election, big business burped after devouring democracy, and the poor continued to subdivide their last bean. Cabaret music hasn't felt so appropriate in 80 years.
Hey: For our neo-Weimar times, this Timur Bekbosunov is some kind of singer. Trim kid from Kazakhstan moonlighting from his opera gig, but disdaining the classical geek factor: instead substitute eye makeup, asymmetrical coif, maximum camp. And oh yeah, at least four octaves of precise power, from rib-shaking baritone to eyeball-cracking falsetto. Timur put that voice to work on his idol Kristian Hoffman's urban-sophisticated "That's Something New" and melodramatic "Total Eclipse" (famed from Klaus Nomi's interpretation), cuddling a fake ermine stole and gnawing the scenery to clown out the Hungarian weeper "Gloomy Sunday." And he plainly delighted in non-underplaying the "f*ck you like an animal" sentiments of Nine Inch Nails' "Closer." Thanks to the wink-wink civilized stylings of his drumless Dime Museum band (viola, cello, accordion, acoustic guitar, standup bass), Timur executed Ian Gillan screams and Justin Hawkins jet howls without ever stooping to anything so crude as rock. Love the accent, love the charm. Obvious star quality.
Kristian Hoffman, on the other hand, while rarely succumbing to sweaty abandon, has always kept rock & roll close at hand and stroked it like a pet ocelot. His Rock Gods, Trower-toned Strat man David Bongiovanni and groovin' lab-rat drummer Joe Berardi (with a seated Miiko Watanabe nailing the electric bass) sported courtly ruffles over pigeon chests to strike just the right tone of effete bravado on the rockers from Hoffman's new masterpiece "Fop," and sloshed oh so grandly on the ballads while Hoffman crooned from behind the pianoforte. Grinning like Paul Lynde, mock-stripping out of his glittery three-piece suit and posing with tinted spectacles, Hoffman climbed expertly up and down the scenic scales of his challenging vocal and piano charts, and once again the audience had to marvel at the comprehensive lyric and melodic skill of his songwriting. Hoffman lightheartedly confronted "Evil," chided himself for his "Mediocre Dream," grungily demanded "Hey, little Jesus, get out of that hole" and saluted the melancholy glories of "Blackpool Lights" (after admitting the cheesy Beatles tourism that inspired it). He picked nearly all the tops from "Fop," in fact, with the exception of the ambitious stunner "Something New Is Born," which may have been just too damn hard to play live. A rotating cast of singers, including Kristi Callan, Justin Tanner and Miss Liberty Larsen (a little blond cutie whose Kristian-backed opening set I missed), came through with the artful harmonies that add so much to the Hoffman oeuvre. The audience, needless to say, virtually levitated in rapture from their red-leatherette furnishings -- and it was a great moment when Hoffman pointed out Pat Loud (mother of Lance), an extended family member since the 1970s Mumps days. Hoffman got called a legend repeatedly over the course of the evening; better a legend to the cognoscenti than a gilt god to the great unwashed. Except, y'know, for the money thing.

Read my review of Hoffman's "Fop" here.